Sweden, home to the vast 100,000 lakes and nearly 270,000 enchanting islands, is the perfect getaway to hike, hunt, sightsee, and fish in Sweden! Fishing in Sweden has always been both a lifestyle and culture, making it the perfect opportunity for you to immerse yourself in Sweden's roots.
With that being said, if you're a big-time outdoor and fishing enthusiast, then fishing in Sweden is for you! In this article, we'll be guiding you notch by notch on everything you need to know about the species of fish in Sweden, fishing in Sweden, fishing permits and regulations, prices, and responsible fishing in Sweden. Without further ado, let's dive right into it!
Species of Fish in Sweden
If you're looking to fish in Sweden, then you're in luck. Almost 10% of the country consists of lakes and the freshwater fish fauna in Sweden is made up of 52 species where 12 of those are also present in the marine environment.
Among the multitude of species of fish in Sweden you can find in those waters, four top listed fish species are the favorites for the locals to fish in Sweden. They include pearch, pike, zander, trout, grayling and salmon. With that being said, here are some things you should know about each species of fish in Sweden.
Fly fishing in Sweden
Fly fishing is the most common fishing technique to fish in Sweden, where a lightweight bait (usually fly-shaped) is used to lure and catch fish in Sweden. This is because graylings generally feed on insects, just like trouts.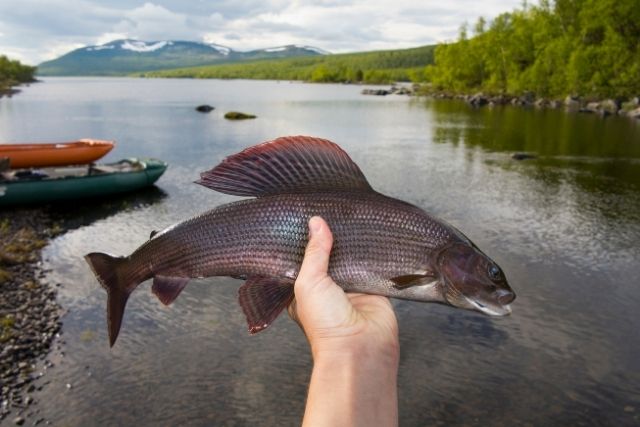 Graylings (also scientifically known as Thymallus thymallus) are Härjedalen fish. Due to their rapid reproduction rate, they can often be found in numerous amounts, especially in northern Sweden. Their quantities tend to remain steady over time as this fish in Sweden is more tolerant towards climate change than other fish species.
This fish in Sweden is distinctively known for its "sail," or its large dorsal fin that mimics the shape of a sail. If you want to catch a grayling or two, fishers have recommended finding the shoal (or the large school of graylings swimming together) in more vast areas by moving around. The largest grayling ever caught to date weighs as much as 2.85 kilograms!
Pike fishing in Sweden
Pikes are notoriously famous fishes to fish in Sweden, mainly known to eat other smaller fish, including one of its own. Pike fishes are predators and are on top of the food chain throughout Swedish waters unless there is a giant pike standing in its way.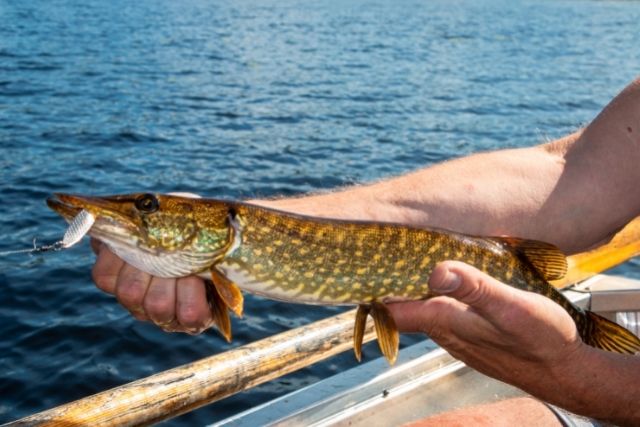 Its scientific name is Esox lucius. Aside from eating smaller fish in Sweden, pikes are also known to feed on other animals, including water worms, small reptiles, and birds. Pikes can be found anywhere throughout Sweden's water territories aside from certain mountain world parts, especially in lakes, rivers, and calm streams. Depending on the seasons, some of the best ways to fish in Sweden are spinning and trolling.
The female pike usually is bigger than males as they can generally grow up to 1.2 meters and weigh 7 kilograms. However, growth rates are determined by how favorable the environmental conditions are. On certain occasions and when the odds favor them, pikes can grow up to 1.5 meters and weigh over 20 kilograms. Pikes are among the local fishers' favorite sport fish in Sweden to date!
Salmon fishing
Salmon is not only famous for being a well-known sport fish in Sweden, but they are also delicious to savor by culinary enthusiasts around the globe! Salmon fishes usually feed on smaller fish, insects, and worms, making fly fishing the standard method to catch this fish in Sweden.
It is scientifically known as Salmo Salar and can be found in the seas, streams, and rivers. This fish in Sweden is an excellent swimmer. They tend to swim upstream during migration periods, so ensure you have the best equipment to catch one or two. Aside from fly fishing, you can also try spinning or angling during spring, summer, and autumn.
Salmon have a unique upbringing where they are born in streams or rivers but will migrate later on in their lives to feed themselves, making it no wonder why they have prowess in swimming. This fish in Sweden is relatively large. The record sizes are 28.7 kilograms for sea salmon and 20.4 kilograms for lake salmon
Fishing season in Sweden
In the table below you'll find the best fishing season in Sweden for the most popular species.
| | | |
| --- | --- | --- |
| Species | Fishing season | Best fishing methods |
| Grayling | Ideally in the Spring, Summer, and AutumnPossibly winter but may be challenging | Spinning, fly fishing, and ice fishing |
| Trout | Winter, Spring, Summer, and Autumn | Spinning, fly fishing, and ice fishing |
| Pike | Winter, Spring, Summer, and Autumn | Spinning and ice fishing |
| Salmon | Ideally in the Spring, Summer, and AutumnPossibly winter but may be challenging | Spinning and fly fishing |
Fishing in Sweden
Behind every good fisher is a strategic location. Regardless of what species of fish in Sweden you are after, it is always wise to understand their habitat and terrain before fishing in Sweden. Doing so not only helps you anticipate what you might need, such as gear, clothing, and types of bait to use as you fish in Sweden.
Fishing in southern Sweden
The south of Sweden is also what local fishers call "the angler's paradise," for a perfect reason. This fishing area is located in the southeast of Blekinge province along with plenty of islands surrounding the area, offering some jaw-dropping natural sceneries and is enriched with fishes to catch! Another reason why fishing in Sweden should be on your bucket list.
The fact that the area is located on the seashore of the Baltic Sea means that these waters have significantly less salinity compared to most bodies of water such as oceans and seas. Here, you should be able to find enormous sea trout and, of course, pikes.
Most people would prefer to have the classic offshore fishing in Sweden experience, which has a good chance of catching a fish or two. However, if you are one of the few full-time fishing enthusiasts, you can take your fishing experience up a notch by checking out the handful of fishing parks and ramps in the many islands in the area! The best part is you get to rent out a kayak and truly immerse yourself in these vast and tranquil waters before getting that catch of the day.
Note: Be sure to contact a fishing guide in any fishing lodges available. However, the locals highly recommend Karlskrona. This helps you easily navigate your way throughout the terrain and make the most out of your fishing in Sweden experience.
Fishing in central Sweden
Vemadalen village, located in the central part of Sweden, is your access point to various lakes such as Oxsjön, Klövsjön, and Fillingen in Hede, particularly known to be excellent ice-fishing spots.
For those who are new to fishing in Sweden, ice fishing is essentially where you fish after drilling a hole in frozen waters. Some fish species you might get your hands on are the trout and the almighty pike. There are guides and lodges available in the area to help you navigate the area and even show you how to ice fish from hole-drilling to catching the fish in Sweden.
Central Sweden is also famous for its skiing resort of Åre, which also happens to be an ice-fishing hotspot due to its proximity to Lake Åre. This makes it the perfect way to spend the holidays with your beloved family, with some fishing in Sweden action and an unforgettable ice-fishing experience.
Fishing in northern Sweden
North Sweden is also infamously known as the hotspot for ice fishing. The fishing area is located in the alpine region, surrounded by enchanting green forests and peaceful alpine rivers.
Throughout these rivers, you should be able to find salmon and sea trout swimming up the rivers as they migrate for food. Some of the popular salmon-filled rivers include Torneälven, Kalixälven, and Kaitumälven River, just to name a few. The best season to catch salmon is anywhere in between June and August or the early days of summer.
The beauty of fishing in Sweden is captivating yourself with nature and hiking around the forests. The deeper you get into the woods, the more hidden gems you can find that are catching the northern pike!
With optimum water temperatures for pikes to live, you should be able to spot them in shallow waters quickly. Hence, this makes it possible to use spinning and fly fishing to catch them if you are not a fan of ice fishing. Local fishers said that these pikes are often ignored as most will choose to catch the salmon instead.
Fishing permits and fishing rules in Sweden
Fishing in Sweden is both a great delight and thrill regardless of whether you are a seasoned veteran or a first-timer looking to fish in Sweden. However, you need to know some ground rules and requirements before going fishing in Sweden with peace of mind.
Rules
The Right of Public Access states that you are allowed to spend all the time you like in the outdoors so long as you refrain from harming, disrupting, or destroying the natural environment, including both animals and plants. A general rule of thumb is to leave as it once was when you first visited any natural destination.
In the case for fishing in Sweden, there are only certain lakes in which you can fish with a line, rod, and hook, that is along the Sweden coast and the Jämtland country (where you can find Vättern, Vänern, Mälaren, Hjälmaren, and Storsjön Lakes). However, if you want to fish in privately owned waters, you must ask the owner's permission.
Regardless of what fishing method you choose, ensure you do NOT take more fish in Sweden than you need. You can use baits such as worms, caterpillars, maggots, dough, prawns, bread, or fish pieces. Should you wish to keep and cook the fish, make sure you kill it right away and store it in a cooling storage unit before cooking a meal after you fish in Sweden.
Permit for fishing in Sweden
Whether you are a local Swede or a fishing tourist from elsewhere, you can simply apply for a permit online to be allowed to go fishing in Sweden, depending on what area and lake you intend to fish in Sweden.
For non-Swede anglers, there is no requirement for any national approval or license. Like Swedes, you will only need a valid personal local permit to go fishing in Sweden. You will be applying for a digital fishing permit where all you need is to fill in the online form and provide all the required details, and a payment method by either Paypal or card payments and you should receive your permit through SMS or email (in the form of a PDF file).
Fishing in Sweden prices
While prices may vary from one to another, here is a rough estimate of the cost breakdowns to fish in Sweden:
10 SEK = $1,10 USD
Entrance fee
40 SEK for adults (18+)
Free access for children up to 18 years old
Fishing equipment rental
Fly rod (300 SEK per day)
Spin rod (200 SEK per day)
Wading pants (300 SEK per day)
Day Permit
Adult (500 to 950 SEK per day)
Children up to 13 years old (free as long as the parent(s) have a permit)
Children below 14 years old with no parent (50% off on regular day permit fee)
Children from 14 to 18 years old (50% off on regular day permit fee)
Youths from 19 to 22 years old (30% off on regular day permit fee)
Family consisting of 2 adults and children under 18 (595 SEK per day)
Note: Please be mindful that fees are subject to change, and prices may vary, depending on where you choose to fish in Sweden.
Price source: https://www.sveaskog.se/globalassets/morrum/dokument/prislista–engelsk-2021.pdf
Responsible fishing in Sweden
In light of the rules of fishing in Sweden, it is also essential to understand what responsible fishing in Sweden means and how you can do so to protect Sweden's natural environment. Nature's Best applies to all eco-tourists and nature & cultural tourism companies. So what is it?
The Natures Best label is Sweden's one and only sustainability label for all activities relating to ecotourism from both tourists and entrepreneurs. It ensures quality assurance to conserve natural surroundings and environmental adaptation. Ecotourism is defined as responsible travel that aids in protecting the natural environment and supporting the wellbeing of the Sweden population.
Nature's Best Label stands on six principles that serve as the pillars of the foundation of nature conservation and preservation. Here are the six principles you should keep in mind when fishing in Sweden:
1. Respect the destination's limitations
Upon visiting any natural or cultural site, always prepare ahead by doing your due diligence on the dos and don'ts, especially when it comes to visiting natural destinations. It is crucial that tourists, organizers, and locals cooperate to mitigate any possible wear and tear on culture and nature.
2. Benefit the local economy
One of the primary purposes of ecotourism is to bring in a positive and healthy impact on the local economy by supporting local businesses in Sweden. This includes local accommodations, products and services, and guides.
3. Adapt the business for the environment
The ecotourism organizer's core responsibility is to ensure all activities they carry out have the environment in all decision-making processes, which include mitigating any harmful impacts on the environment such as overuse of transport, littering, and burning fuels. To combat this, organizers must promote the usage of public transportation and environment-friendly accommodation facilities.
4. Contribute actively
Biodiversity and cultural values are two vital building blocks of ecotourism that should be the organizer's primary responsibility. They must take part in supporting the conservation of nature in any relevant and impactful way.
5. Invest in the joy of discovery
To travel with as much curiosity as it is to respect is the best way to travel. Organizers must ensure they are well-read and aware of the natural and cultural abundance of the country to provide exceptional hospitality and transmission of knowledge for an unforgettable experience for visitors.
Fish in Sweden
No matter where you're from and whether or not you have the spirit of a fisher or not, fishing in Sweden is an absolute must-try and a once in a lifetime experience; everyone should try to not only feel the joy of catching one but to truly understand and appreciate the natural and cultural environment through fishing in Sweden.
Sweden is enriched with stunning mountains, forests, and bodies of water that make the perfect conditions for quality marine life, such as trout, salmon, graylings, and pikes. Before even laying a finger on a fishing rod, ensure you have complied and understood the rules and applied for a valid permit to fish in Sweden.
Prices for fishing in Sweden may vary from one region to another, but generally, it should cost around 2500 SEK for the entrance fee, permit, and equipment rental to fish in Sweden waters. Always remember to practice responsible fishing in Sweden as a way to take care of the natural and cultural environment.