What is the capital of Sweden?
The official capital of Sweden is Stockholm. This Swedish capital is mesmerizing with its blend and balance of modern contemporary, timeless history, and mother nature. In this article, we'll be going through everything you need to know about Stockholm, including its history, seasons, and some of the best things you should do when you visit the capital of Sweden.
Swedish capital facts
The capital of Sweden, Stockholm, is located on the southeastern coast of Sweden, stretching across the Baltic Sea along with an archipelago of not one but 17 islands! It also has the largest population compared to other Scandinavian capitals. The Swedish capital has 11 municipalities, each with various places and things to discover. Stockholm has also been nicknamed the "Venice of the north," as water never seems to leave your sight when you venture through the capital of Sweden.
Quick facts:
Size: Roughly 188km2
Seasons: Winter, spring, summer, and autumn
Population (2021): 1,657,000
Time zone: CST or Central European Time
Currency used: Swedish Krona (SEK)
Sweden is known to treasure its natural environment. This is evident in Stockholm as about 30 percent of the capital in Sweden is dedicated to green spaces and parks, and another 30 percent to waterways. In fact, the majority of Stockholm is covered in lush forests as it covers about 50 percent of the Swedish capital! 
Getting your way around Stockholm should be a breeze as you can either explore the surrounding districts on foot or take public transport. Every place you lay your feet has a distinct character and feel. Some examples are the Södermalm island (known for its gentle breeze and creative endeavors), Östermalm (known for its unmatchable elegance), and Norrmalm (the lively and busy side of the Swedish capital).
The capital of Sweden is home to the many visionaries, innovators, and startups seeking to become the game-changers in the tech industry, rivaling Silicon Valley. Fun fact: Spotify, the world-famous digital music, podcast, and video service company, originated from Stockholm.
Stockholm history and name
Brief History
The Swedish capital earned its name as a city back in 1252 and was mostly built from the ground up by Birger Jarl, a Swedish ruler. Over the years, Stockholm's growth pace rapidly increased thanks to a trade agreement between Stockholm, Sweden, and Lübeck, Germany.
It wasn't until 1436 that Stockholm became officially established as the capital of Sweden. Even so, there were still ongoing disputes between the Danish and Swedes for numerous years until the capital of Sweden finally gained independence from the Danish ruling of Gustav I Vasa in 1523.
In the 18th century, large fires, unfortunately, took down a massive chunk of Stockholm since many of the homes were built from wood. Therefore, houses back then were replaced by stone buildings. These buildings include churches, palaces, and government offices. Since then, the capital of Sweden has become a cultural epicenter of Sweden, charmed with a blend of literary societies and scientific academies.
The original city nucleus is Gamla Stan (Old Town), or the "city between bridges." It comprises Stads Island, Helgeands Island, and Ridder Island. In this region, most of the buildings date back to the 16th and 17th centuries. Fascinatingly, the network of streets found here has been untouched as they are heritages from the Middle Ages and are protected by law.
Today, Stockholm is Sweden's industrial leader in large industries such as paper and printing, chemicals, metal and machine manufacturing, and foodstuffs. The capital of Sweden is where banks and insurance companies lay their headquarters and is also a close second to Göteborg for being one of the largest ports in Sweden.
The name is Stockholm
The Swedish capital name consists of two Swedish words: Stock which is translated from "Stokker" in Swedish, which means log or pole, and Holm, which means island. The fact that Stockholm is spread throughout 14 islands justifies the meaning of Holm in the Swedish capital's name. Whereas the Stock in the capital of Sweden name is simply associated with logs or poles but have had various interpretations or opinions on how it came about.
Some locals from Stockholm suggest that logs were used to mark important sites such as frontiers or markets. This was also backed by a German theologist named Jacob Zieglar, as he noted that Stockholm engraved a sentiment in the use of poles.
On the other hand, the most widely known interpretation is because the Swedish capital utilized logs to block out shipping routes towards the islands. The reason? Possibly to charge tolls of some sort for outsiders to access the capital of Sweden or perhaps to mitigate chances of enemies from gaining entry. Historically, Sweden had numerous instances where they had to defend their grounds against neighboring foes.
Stockholm population
As of 2021, the capital of Sweden has a metro area population of 1,657,000 people. This population is 1.47% higher than its population from 2020 (1,633,000). Stockholm's current population density sits at 4,279 inhabitants per km-squared.
Stockholm weather and seasons
Thanks to Stockholm being under the Gulf Stream, this makes the capital of Sweden less prone to extreme heat in the summer and frosting cold in the winter. Resultingly, the weather in Stockholm is relatively milder than in other regions. Summers only reach up to about 25 degrees Celsius, and winters only go down a few degrees below zero. Here's a quick peek at what you need to know about each season:
Winter in Stockholm
Typically, winters in the Swedish capital last from December to February with little precipitation and snow throughout the three months with a daytime average temperature of about 0 to 1 degrees Celsius.
Temperatures range between a high of 1 degree Celsius and a low of -5 degrees Celsius. However, be careful and mindful of the shorter daylight times and strong wind gusts from the Baltic Sea; wearing warmer layers is the way to go.
Spring in Stockholm
As the chilly winters come to an end, spring comes to life as those lush greens slowly start to return in the warmer temperatures. Spring begins in March and ends in May with only a few rainy days.
Throughout spring in the capital of Sweden, the lowest temperatures dip down to -3 degrees Celsius in March but will gradually rise to 16 degrees Celsius by May as summer approaches. This is the perfect season for those of you who still want that coziness under the warm sunshine and cool air, without the winter cold or the summer heat.
Summer in Stockholm
Fortunately, summers in the capital of Sweden aren't that bad at all, as temperatures rarely go beyond 25 degrees Celsius from June to August. This makes it the perfect time to go on those hikes or join in some local festivals in the area!
Summer months in the capital of Sweden have a high of about 22 degrees Celsius in July and a low of 11 degrees Celsius in June, so be sure to bring a light jacket or coat while you stroll around Stockholm. There may be a little more rainy days than the spring, but as long as you have a raincoat or your handy umbrella, the rain shouldn't get in the way of your daily plans.
Autumn in Stockholm
As the air cools down and the colors of the trees start to shift, we have one of the most beautiful seasons in the capital of Sweden: Autumn. In Stockholm, autumn begins in September and ends in November with moderate precipitation but certainly not as frequent as the summer months.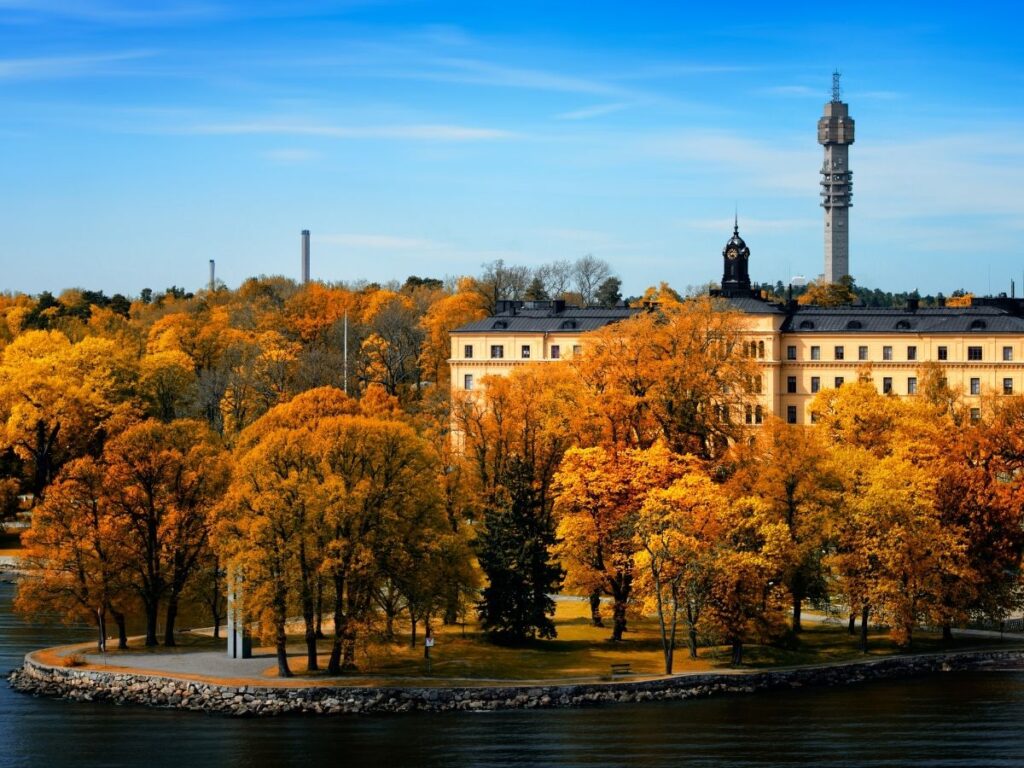 During autumn in the capital of Sweden, temperatures usually rise to a maximum of 15 degrees Celsius during the day in September and fall to a low of 1 degree Celsius in November. The average number of rainy days for each month is about three days, so while you enjoy the beautiful colors of falling leaves, be sure to bring a raincoat or umbrella with you.
Best things to do in the Swedish capital of Stockholm
Shop around uniquely designed stores
This goes for all the shopaholics. The capital of Sweden has a wide array of shopping experiences to offer, with countless state-of-the-art stores selling goods such as ceramics, furniture, and cutleries, to name a few. Stockholm is home to two highly iconic go-to destinations: Malmstenbutiken and Svenskt Tenn in central avenue Strandvägen.
Drottningholm, located in central Stockholm, has one of the best shopping destinations with a mix of both vintage and high-end goods. The best part is the handful of restaurants and cafes you can stop by to grab a quick bite or sip some coffee before continuing your shopping spree. Other highly recommended shopping places include FabLab and Södermalm's Götgatan street.
Indulge in art and culture
As the epicenter of culture, Stockholm prides itself in its diverse culture and art, from the extravagant and fancy museums to local and unique artist houses found all around the capital of Sweden. Some of the top-rated and must-visit museums and galleries you should check out are Fotografiska, the Nationalmuseum, and the infamous Vasa Museum.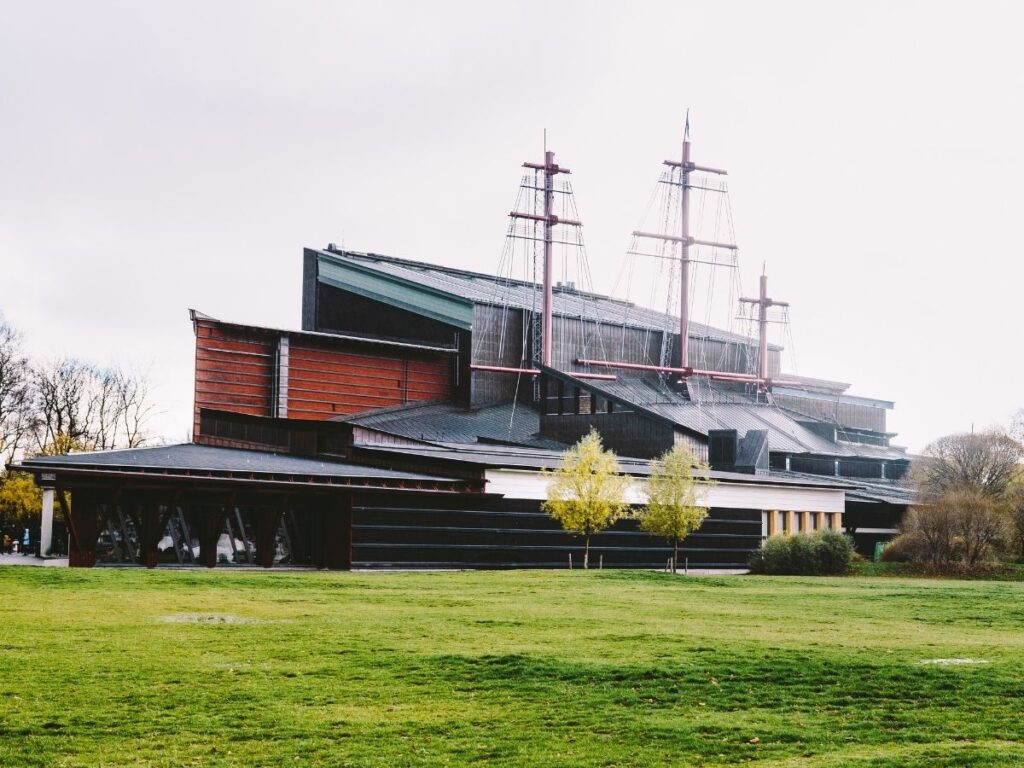 The Nationalmuseum features art collections preserved from the 16th century, including paintings, carefully crafted sculptures, and artifacts. The building alone was built in 1866 and is also closeby to the Royal Palace in the capital of Sweden. The interiors recently got restored in 2018, making it the perfect excuse to come by and see for yourself!
To top that off, Vasa Museum, the most popular hotspot in Stockholm, features a nearly 20-centuries-old ship called The Vasa that sank in 1628. The ship was recovered back in 1961 and has been preserved since then. The Vasa weighs over 1210 tonnes, stretches about 69 meters in length, and is 52.5 meters high. A sight to behold indeed!
Stroll and sightsee nature's wonders on foot and ferry
Wandering around the capital of Sweden is the perfect way to spend the spring, summer, and autumn.
Whether it be a morning jog or a casual stroll, be sure to check out the Royal Djurgården, the first national urban park in the world filled with wonders from science and tech that is only a short walk from downtown in Stockholm. If you don't fancy long walks, you can also rent out a bike available in the area as you immerse yourself with the surrounding plant and animal species such as hares, deers, and even rare birds!
Another must-visit is the Stockholm archipelago, where you can get to any of the many islands by ferry. Each island has a distinct vibe with cozy village feels as you will come across plenty of wooden houses. In addition, you can also stop by at their local shops, cafes, and restaurants. When visiting the capital of Sweden in the summer, enjoy a chilled cone of homemade ice cream by the waterfront.
Feast on lively and sustainable restaurants in Stockholm
Sustainability isn't just practiced in natural destinations throughout the capital of Sweden; they extend above and beyond to the culinary world, that is, using sustainable cooking methods and ingredients that mitigate adverse environmental effects.
While there are thousands of delights to savor, there are some featured restaurants you must taste in the capital of Sweden. First up is a restaurant located in the Nationalmuseum, serving sample dishes from Sweden's top chef, Fredrik Eriksson, who specializes in Swedish and French cuisine with artistic decor and architecture to complement your dining experience.
Next up is the all-time favorite Bakfickan, located right beside Operakällaren, which features an old-time classic Swedish homemade food. Some of the highly recommended dishes you should try are the Swedish meatballs in cream sauce with a side of potato puree, pickles, and lingonberries. Bon appetit!
Visit the capital of Sweden
If ever anyone decides to put your knowledge of Sweden to the test, now you know a thing or two about the capital of Sweden, Stockholm. Rooting from back in the 1250s, the Swedish capital came on a long development journey to the modern industrial while keeping its historical heritage intact.
Stockholm's climate makes the perfect getaway without the need to be afraid of extreme weather during the summer and winter. Whether you're a visitor or a local, exploring the Swedish capital can be done in various ways. When it comes to shopping, museums & palaces, culinary delights, and sights to see, it has it all! So, what's stopping you from visiting the capital of Sweden now?